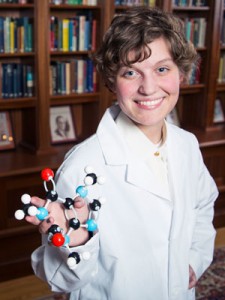 As a new leader in University of Utah's academic community, I am often asked what has surprised me about the U, or how the U differs from other higher education institutions that I know. The question was on my mind this past week when I heard that one of our honors undergraduates, Annika Pecchia-Bekkum, was chosen as a Gates Cambridge Scholar, a highly prestigious recognition that will support her medical science graduate work at Cambridge. And it was on my mind when I met Teresa, an immigrant, first-generation undergraduate at the U, who is raising her adolescent children and working full-time in a key role in the local community, while gradually pursuing her dream of a baccalaureate degree. It was on my mind when I read about discoveries in Bioengineering and the Scientific Computing Institute that reveal ways to optimize blood vessel growth, research that, long term, may have implications for improving vascular function for individuals with heart disease and diabetes. And it was on my mind when I visited Continuing Education and came to understand the significance of the U's presence in offering college-credit courses in Murray, Sandy, and Bountiful, as well as in supporting the English Language Institute, which has enabled thousands of learners – newcomers to our community from around the world with a wide range of personal stories and circumstances – to gain English language proficiency sufficient to enable further education and full participation in the workforce.
So, what is it that differentiates the University of Utah? The U is a world-class research university, with path-breaking discoveries underway every day that address our most significant societal challenges in health, energy, education, environment, and beyond. At the same time, the U is an educational gateway for first-generation college students, with about 40 percent of our undergraduate degree earners becoming the first in their families to complete the baccalaureate. The U provides a context where the brightest, most promising, top achieving 18-year-olds participate in class alongside 50-year-old adults with wisdom and perspective earned through remarkable life experiences, where refugees to the U.S. learning English can ultimately move into the university and into roles in research laboratories, where we create and embrace educational opportunities for undergraduates who juggle heavy work and family responsibilities with their educational agenda. Sometimes the balance between these roles is a little uneasy, as we strive to offer courses and programs at times and in ways that meet many urgent needs, for example. Yet, our role as both an educational gateway and a world-class research university creates an extraordinary university, one that that lends deep benefit to society through access and meaningful participation in high quality education for a remarkably wide range of people and generates knowledge that improves quality of life and the human condition.
This indeed differentiates the U from nearly all of our Pac-12 peers and certainly from other research-intensive universities across the nation. Our role as an educational gateway is striking and is celebrated alongside our achievements as a top-tier research engine and as a university-of-choice for the highest achieving high school students. There are unique opportunities and challenges created in an environment that combines these elements. We are committed to creating a path of excellence across these arenas and to leveraging our unique features to advantage the University of Utah as we move forward as a university of national prominence and distinction.